Every Thursday Mama Kat hosts a writer's workshop in which there is a theme based on which a blogger have to write something. This week I am opting for
* Photographs can turn a house into a home. Share a photograph that is not on your wall, but should be...if you weren't so lazy about actually putting it there.*
If I was not lazy, I would make a big canvas of the picture above and put it on the wall somewhere in our flat. I took the picture on my honeymoon, nearly five years ago. I like it because it looks like a professional travel photo - one of those pictures which photographers get paid loads of money to take.

I took it with my old 5megapixel camera whilst staying in Perehentian Island in Malaysia, this place was the third location of our adventurous honeymoon. The place was like a paradise and we enjoyed being there! So it would be one of the pictures I would put on the wall - a part from some narcissistic personal pictures of Hubby and I.
What do you think of it?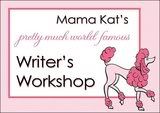 P.S: My giveaway is still running, click here to enter ;)!