...
style...
:)!

... is simple but chic. Although I have never being there, it is on my offline list to go to France before leaving Europe.

I prefer the French style, and I try my best to keep it that way. So when I saw the shoes (below), in a charity shop, I instantly felt in love. They were like new.
The detail of bow are romantic like the French 19

thC

fashion. And they have the
hulala
flair... I just have to slip them on and
voilà
, I am ready to kill!

They have been there for me throughout the summer. They are comfortable and I can wear them with anything. I wear them to work and to party in them. I am still wearing them although is autumn; but the cold days will be here soon and I am looking for a new pair of shoes that will be versatile as them.
At the moment, I am digging the Mango A/W 2010/11 new look, which is inspired by French 70s style. Check the fashion week video.

Apart from the wonderful clothes I would like to buy, the following are the few shoes I am definitely going to buy from Mango.
The vintage look is so in... but, I used to wear that kind of shoes in the nineties and I still have some pair somewhere. However, I am ready to buy a new pair just to keep up with the fashion...
... I know, the above are not for the winter but I just love the way them look. I can have them for a romantic dinner or a special party. They seem comfortable fit as well. They are killer heels and sure I am going to have them during the sale ;)!

However, my priority is buying a new pair of boots. The following boots will do because they look practical and comfortable and I can wear when in the snow!

Enough of rambling about shoes because I also love French...


...
crepe and

baguette

and Tour

l'Eiffel
...



...
l'oreal

and Chanel
...

... they say spend lots of money on the good essential items, and don't be cheap on useless things. ... that is my motto! (
I will post more on this in later date
).


...
kiss
...

The Art Of Kissing: How To French Kiss Step By Step
Uploaded by

howtokissvideoscom

.

...
language
...

Visite

de

Nicolas

Sarkozy

à Bertrand

Delanoë
Uploaded by

mairiedeparis

.
is like speaking while sensually drinking red wine!... it makes even ugly politicians look sexy... It is so sexy,

oui

!

...
1980s film La

Boum
...

...
Air's music
...
the last one is one of the soundtracks of one of my favourite films

The Virgin Suicides

.

And to finish, a little bit of sweetness...


...
1992

Dur

Dur

d'etre

Bebe

song (it is super fun)
...
... how sweet. He made us girls dance in the early 90s - for saying
"It is hard to be a baby
!" Just listen to him...


So, there you have it, a little bit of my French taste :)! I am praying Hubby and I will experience one of French cities soon :).

Are you a French lover? Have you ever being to France? Which is your favourite fashion/style? Have you ever being to a fashion show? Do you know how to French kiss ;)? Isn't

Jordy

and his
girlfriend
cute?

This post is for the french inspired blog party hosted by Le Chateau

des

fleurs

by

Frenchy

.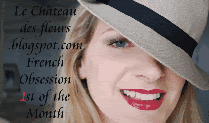 *******************************************************************
I WANT TO DEDICATE THIS POST TO Gui,
a French friend who passed away two years.
R.I.P Gui!
Tu me manque
!