A year ago today in the entry of my paper journal I wrote:


A

utumn

is at the door again. I'

ve

always like this season, when the trees shed leafs on the ground and the rain starts again. It is a melancholic season, a little bit like me.





I have started university and this year I have decided to go the university gym. Surely this will help me keep fit and through yoga I will learn how to concentrate and relax for my essays, plus I want be fit when I am pregnant...




Then few months later I started to panic, because I thought I was doing too much for my little shoes. I was writing two essays per week and reading 5 books for my final year project. I went as far as to note that I wanted to close some friendship because they were sucking up my thoughts. I wrote:


Until June 2010 I am going to steer away from them, because I am not going to lose precious time and I need to concentrate on my project and my essays.
Now that I am not studying and I am free to do what I want, I am panicking because I have not made a concrete plan for my career life. I need more focus on that side and pursuit it with a purpose. However, I also know that I should not worry for having many ideas, I can write them down and

organise

them by priority. Yes, that is my next target write down everything that is

rummaging

in my head.


Today's post was brought to you through Mama Kat's Writer's Workshop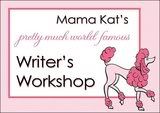 and Heather's Today A Year Ago Thursday Blog Hop.

So what happened to you a year ago today? Have you ever panicked because you thought you didn't have enough time to explore your creativity?