Dear Berry,
How are you doing today? I hope you are doing fine and you are comfortable in my womb. I can't stop imagining you turning around inside that little space. I wish I could see you. But feeling your movements, which for me are like strong hiccups, settle my heart into its place.
It feels surreal – more or less than 101 days I will have you here in my arms. This knowledge makes me very emotional. The tight bond we have will be interrupted and it will be my daily duty to create it until you are not a baby or toddler anymore but an adult.
I was listening to Endless Love by Lionel Richie and although some lines sound declaration of passionate love between two lovers some other lines describe the pure-unconditional love a parent feels for her or his child.
My love, […]
The only thing that's bright – My first love, You're every breath that I take, You're every step I make – […] Ooh yes, you will always be
My endless love – Two hearts, Two hearts that beat as one
Our lives have just begun – Forever (Ohhhhhh)
I'll hold you close in my arms, I can't resist your charms – […] 'Cause you, You mean the world to me – […] And I'll give it all to you – My love, My love, my love, My endless love
Right now having you in my womb secures this tight bond. At the moment "You're every breath that I take, You're every step I make […]" But once you are born other people will touch your hair, face or little fingers. I won't like that, but how am I going to tell them without sounding a nasty person? People wanting to have a piece of you will make me so jealous! You are mine and I don't want to share you with anyone else but your father – is that wrong of me.
Yesterday we went to a barbeque and one of your father's colleague (AN), the one who commented "[…] Your baby is going to be very beautiful. [...]" based on mine and your daddy's skin tone, put his head on my belly. He is a nice guy and everything but I was taken aback. I start to giggle nervously and say "You can't hear anything. I can feel the baby moving, but even when AMI comes to feel the movements the baby stops and then starts again when he is gone." I took hold of my belly with my arms in shield. I resisted to slap his head off, because he didn't mean any harm.
My love for you is so strong it scares me. What if it turns itself into paranoia. I believe these feelings are playing in my subconscious through some paranoid dreams:
In one dream your paternal grandmother breastfed you soon as you were born and I was sleeping. I woke up (within the dream) I freaked out with her. I said "It is unfair that you want to take away from me the bonding with my baby. That's unfair!" I was very upset I told your paternal aunty and she agreed with me.
In another dream I was till pregnant. I had your maternal grandmother visiting me with her friend's daughter, who is about my age. They came in the house and as a sign of affection the young woman said "Oh, I can't wait for your baby to be here, I want to give her my breast milk."

I was furious, I thought about telling them to go. I was afraid my mother will ask me to have this young woman at my place to help me with you. I was annoyed she suggested feeding you, Berry. Did she want to take my child away from me?
You are mine baby and I want to breastfeed you. For me, my milk is another way to show you my endless love, the bond I want to create with you will start from that. And I am scared someone might try to take that away from me.
Yesterday at the midwife appointment I asked if is possible for a mother not to have milk to feed her baby. She said that every mother has breast milk, sometimes it might not be enough but every mother has breast milk . That comforted me. I want to have enough milk to feed you through my body supply – and the lack of sore breast during my pregnancy thus far send into paranoia.
You and I are " Two hearts, Two hearts that beat as one, […]". You, inside me and I, outside you. It's mind blowing, you have your little personality but we are one. Nothing is like the endless love a mother can feel for her child and that's what I feel for you: ENDLESS LOVE!
Having you attached to me through an umbilical cord makes me understand what endless love really means. I cannot ever, EVER stop loving you. The love I have for you is not a passion based love, it is pure like clear waters in a summer day. There are no strings attached. As much as I LOVE your father, I know my love for you is STRONGER.
I hope you will love me back always.
My endless love,
Mummy!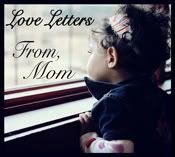 ______________
QUESTIONS: Can a mother love too much? Did'/Do you have any strange dreams? What would you do if someone put his/her on your belly?
************
LADIES, thank you for your support! Before you started clicking we were position #300+ and today we're position #225. PLEASE keep clicking, one a day :D! Hopefully by the time Berry is here we will be position #10 :D
Many Thanks,
TOI.